Gritty New Crime Novel: Black Leather Apron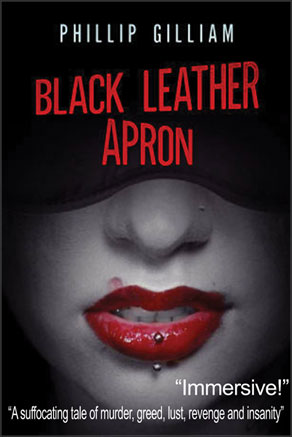 Black Leather Apron is the gritty new crime novel pitting hard-boiled private eye John Talion against the vicious serial killer who's murdering, raping and disemboweling his way thru the streets of Baltimore.
Terror reigns as one by one his victims are lulled into a lustfully false sense of security minutes before being completely destroyed, by the ghoul who's laid hands upon them.
No woman is safe from a man who's mindless killing is dispersed with a surgical skill that resembles outright pleasure. Women of privilege are being ripped apart with the same gruesome indifference as accountants, or ladies of the night.
His crushing physical strength is matched only by his complete hostility and total indifference to human life.
Now enters John Talion. The needy, but reluctant combatant dragged into a contest soaked in the blood of innocents. A game of life and death that, until his arrival, was having but one savage outcome. Death after death, there seems to be nothing that can stop the killer or lead the police to his doorstep. A possible clue tied to the most infamous serial killer ever, Jack the Ripper is discovered.
This clue puts Talion on the trail of the how, the why and he scrambles to find the where and the when of the killer's next attempt. The chase to identify, find and stop this killer is the essential thread woven around Talion's immersive, lustful entanglement with his beautiful employer. Add to this, a life and death confrontation with an old adversary and his minions, hell-bent on killing Talion for his arrest and incarceration 11 years earlier.
Come with us on this twisting, turning tale of murder, greed, lust, revenge, and insanity. Why is it happening? Why now? Why here? Why these victims? These are the essential questions we will answer with stunning clarity. Black Leather Apron, join us on John Talion's quintessential case and know that he will soon be embroiled in another gritty crime story entitled "At All Times".