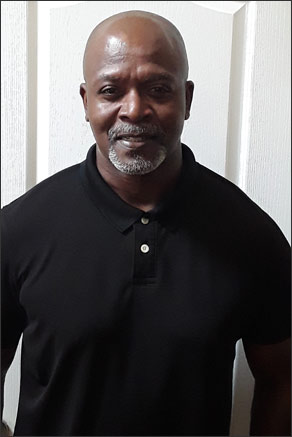 Phillip Gilliam was born in Norfolk, Virginia. He graduated from Morgan State University with a Bachelor of Science degree in Physics and Engineering in 1981 and immediately went to work for Verizon. A communications engineer by trade, he was awarded United States Patent 5,957,878 on September 28, 1999, in Biomechanics for custom compression garments. He was awarded United States Patent 7,803,092 on September 28, 2010, in Biomechanics for an exercise device called the Sisyphean Chamber.
He became a fan of the music, stories, tough guys, and dangerous women of film noir at a young age. He was mesmerized by the stylish Hollywood crime dramas and hard-boiled characters with their cynical attitudes, lost causes and sexual motivations. His heroes were Philip Marlowe, Cody Jarrett, Terry Malloy, Jake Gittes, and Vito Corleone. Roles and films made famous by actors like Humphrey Bogart, James Cagney, Robert Mitchum, Edward G. Robinson, Marlon Brando, and Jack Nicholson. Each of them led or misled by femme fatales like Jane Greer, Lauren Bacall, Betty Davis, Barbara Stanwyck, Lana Turner or Faye Dunaway. Some of them were just rotten to the core.
He was impacted by movies like The Big Sleep, Out of the Past, Key Largo, White Heat, On the Waterfront, Chinatown, and The Godfather. That influence continued with L.A Confidential, Basic Instinct, Se7en, Devil in a Blue Dress, Black Dahlia, and Public Enemies. Mention them, and you can almost hear the slow, distant saxophone solo in concert with a solitary piano keeping pace with the brushes lightly kissing the drums. Before the age of fifteen, he was listening to Frank Sinatra, Duke Ellington, Billie Holiday, and Count Basie.
The idea for Black Leather Apron began one spring when he went to Louie's Book Store to get a book called The Complete History of Jack the Ripper. He had an idea woven around that infamous serial killer. A tribute to the genre he loved. He didn't like that the Ripper was never caught, and he was going to catch him. The guy who would do it was John Talion, an ex-cop who fell on hard times but was about to show how far he would go in pursuit of evil.
Phil studied the actual 1888 crimes in grisly written and photographic detail. The book took him back through the gruesome murder scenes, the terror and pure evil that engulfed Whitechapel. He read it cover to cover to get angry enough to come after the Ripper in print. The book felt evil, and he would periodically have to put it down to cleanse himself before he started again, lest it become a part of him. Then he just started writing, from the heart.
The locations in 1888 Whitechapel looked strangely like an area of Baltimore called Fells Point. You could drive up Charles Street to the Washington Monument and Walters Art Galley area, and down to Fells Point where the alleyways and byways matched almost perfectly the deserted streets where Mary Nichols, Annie Chapman, Elizabeth Stride, Catherine Eddowes, Mary Kelly and Emma Smith were gutted, butchered and disemboweled.
He walked these alleys at night until he found the perfect replicas, scene for scene. He would stay after work, the only person on the third floor, just a few cubicles still lit. He would write, and if he needed to, drift out to see the locations, make notes and take location photos. It felt like what was needed to catch the Ripper.
And as he wrote, the story flowed out of him—a story with characters that he believed in, delivering the justice they deserved.