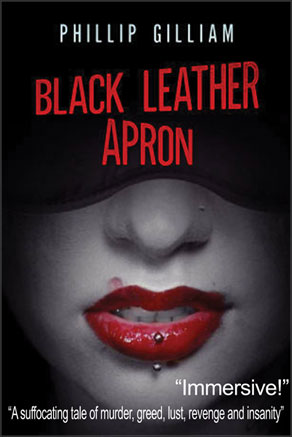 Black Leather Apron, a novel by Phillip Gilliam featuring ex Homicide Detective Talion who is hot on the case of a brutal murderer on the streets of Baltimore. The story line holds your attention from start to finish. Mr. Gilliam uses language that is easy to comprehend yet creates vivid images.
The descriptions and mentions of Baltimore locales makes me want to take a ride up the Beltway to visit Fells Point. I appreciated the unpredictable plot twist that Mr. Gilliam casually tosses into the story with John Talion.
Mr. Gilliam provides just enough descriptions of scenery and the like to make you hungry for more. He sticks to his characters and their doings which is what helps to make this novel short and sweet. This novel is fresh, fun and up to date. I anxiously await the sequel.
Fan For Life,
R. Marable
---
OMG!! Phil I know that you have always been a deep thinker with a passion for exceptional details. With each chapter, I wanted more to come. Black Leather Apron is a great read. What took you so long?
~ Thina
---
Loved the book. It encompasses all of the key components of a good read. I eagerly await the next.
Sharon
---
Mr. Gilliam's book Black Leather Apron was suspenseful, fun, and very entertaining!!! The Jack the Ripper twist was GENIUS!!! Looking forward to the movie. I loved it.
Jeri J.
---
Only a creative engineer could design a thriller full of all the STUFF we enjoy in a great book (lust, passion, sex, gore, suspense, humor, deception, manipulation, the hunt and "catching the bad guy"). As a 34 year retired detective, now a private detective (gum shoe, private dick, etc.), someone accustom to the gore, manipulation, the hunt and yes, "catching the bad guy," it takes a lot to get and keep my attention. Gilliam has my attention.
N. Franklin
---
A suspense filled murder mystery that unfolds with perfect timing. Detailed perfectly without being too graphic. Truly enjoyed it.
C. Jackson
---
The book takes you on a murdering spree from beginning to end. Very different than other books I've read. I would love to read more from this author. Kept me on my toes until the very end…I love the ending.
Noire Lover
---
The Black Leather Apron was a great read. It really kept you wanting to know what would happen next. Who is it that is doing the killings and why. Great job Phillip Gilliam.
T. Pearson
---
A good summer read. Spicy. Great ending.
S. Vaughns
---
I absolutely loved how the story line unfolded. It kept you riveted to find out who was killing the young ladies. Very detailed writing skills, I was actually speaking out loud to the book, "No don't go in there". Great read Mr Gilliam! Can't wait until your next novel!
T. Johnson
---
Good plot and tight story line. Twisted characters all connected in a 'love story' entwined with Jack the Ripper's tale in past history. Enjoyed reading and will read more by this author.
C. Lory
---
This is an amazing read that captivated my full attention throughout the entire book! I can absolutely visualize this as a screenplay! Outstanding!! I cannot wait for the sequel!
Annette B.
---
Great page turner. Each chapter keeps you hooked. I can only hope their will be a follow up. Cheers to reading!
Bonita J.
---
Just finished this book. It was a great read. Can't wait for his next book.
Cooljay
---
Right up there with Patterson.
M. Thomas
---
Great book! Can't wait to meet the author!
Nika
---
The book was a suspenseful page turner from beginning to end. I enjoyed it, sex, murder, betrayal, insanity at its finest. I rate the book a 10.
Wanda
---
Great book! A little sexy too!
Ms. Bright
---
Great book! The author captured my attention from the beginning to the end. I wanted to know more about Samantha & her sister's relationship. I rate the book a 9.
KoKo
---
Great book!!…was definitely page turning from the beginning to end. I rate this book a 9.
Nika
---
Well written. It grabs your attention at chapter 1! A tale of murder, greed & sexual appetites. I rate this book a 10. Research went into this story.
Nicole
---
This was an absolutely great read. I truly enjoyed it!! Loved the story line it kept you in tune and wanting to know what would happen next. For this I rated it a 10… Can't wait for the Sequel.
Benny
---
Love your stuff.
Ms. Johns
---
I absolutely loved the flow of this exciting crime story. The author did an amazing job with the writing. I found myself eager to finish this book. Easy read! Easy follow! Very descriptive. Let me know when the movie comes out!
Sherri B.
---
From the very first paragraph, this book drew me in with the descriptive words and intriguing details!! I was captivated! I wanted more and more and more! Awesome book & amazing crime story with a great sense of suspense to keep drawing your attention and your senses!! I rate this book a 10!!
Larry R.
---
What a page turner! If you like books where the plot continues to build, this is a riveting book for you. It is on my best pick list that I will introduce to my book group to read.
I look forward to following this author for future reads!
Take care!
Sonia J.
---
This was a great read! The characters are interesting, the murder is twisted, the silence is intriguing, and the writing pulls it all together expertly. Bravo Phil!
I. Jones
---
All you need is a weekend and a bottle of wine…. this book keeps you turning the pages. It's a sexy mystery that keeps you guessing. I love the way the author weaves mystery and murder with a modern twist. The story held my attention until the last page. Definitely a good read.
Barbara P.